wat dan?
We spelen eigenlijk alles wat we zelf leuk vinden: van Anouk tot Bløf, van Dire Straits tot Bruno Mars. We bouwen de avond op met rustige nummers zoals "Feels" van Caty Perry en eindigen met feestnummers en meezingers zoals "Let me entertain you", "Stil en mij" en "Links Rechts" van de Snollebollekes. Daartussen zitten dansnummers, Rock 'n Roll en het wat stevigere werk van bijvoorbeeld de Red Hot Chili Peppers of Anouk.
We kunnen desgewenst ons repertoire hier en daar wat aanpassen aan het soort feest dat je geeft. Kom gewoon eens een keer luisteren!
repertoire
Hieronder staat een selectie van nummers die we op dit moment in ons repertoire hebben. Mocht je een verzoeknummer hebben voor je feest geef dat dan even aan, wellicht hebben we het nummer al eerder gespeeld, of kunnen we het instuderen!
Hieronder een greep uit ons repertoire: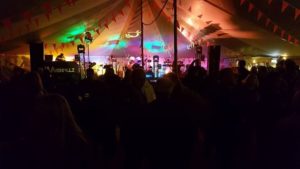 Abba – Does your mother know
Acda en de Munnik – OL'55
Adele – Make you feel my love
Adele – Rolling in the deep
Amy Macdonald – Mr Rock & Roll
Amy Winehouse – Valerie
Anastacia – I'm outta Love
André Hazes – bloed,zweet en tranen
André Hazes jr – Leef
Anouk – Girl
Anouk – Good God
Anouk – Modern World
Anouk – Nobody's wife
Anouk – RU kidding me
Anouk – Sacrifice
Aretha Franklin – Think
Baseballs – Umbrella
Beyonce – Halo
Billy Joel – My Life
Black Crowes – Hard to handle
Bløf – Harder dan ik hebben kan
Bløf – Wat zou je doen
Bløf – Zaterdag
Bløf – Zoutelande
Bon Jovi – Bed of Roses
Borsato / Armin / Davina – Hoe het danst
Boudewijn de Groot – Avond
Boudewijn de Groot – Jimmy
Bradley Cooper & Lady Gaga – Shallow
Bruno Mars – Locked out of heaven
Bruno Mars – The Lazy song
Bruno Mars – Treasure
Bryan Adams – Heaven
Bryan Adams & Mel C – When you're gone
Caro Emerald – That Man
Caro Emerald – A Night Like This
Caro Emerald – Stuck
Chef's Special – In your arms
Coldplay – Clocks
Coldplay – In my place
Coldplay – Sky full of stars
Coldplay – Viva La Vida
Common Linnets – Calm after the storm
Counting Crows – Accidentally in love
Crowded House – Better be home soon
Daft Punk – Get Lucky
Davina Michelle – Duurt te lang
De Dijk – Als ze er niet is
De Dijk – Binnen zonder kloppen
De Dijk – Bloedend Hart
De Dijk – Groot hart
De Dijk – Ik kan het niet alleen
De Dijk – Wat een vrouw
Dire Straits – Money for nothing
DJ Paul Elstak – Rainbow high in the sky
Doobie Brothers – Listen to the music
Douwe Bob – Slow Down
Edwin Evers Band – Ik meen het
Elton John & Dua Lipa – Cold heart
Eric Clapton – Layla
Eric Clapton – Old love
Eric Clapton – San Francisco Bay blues
Eric Clapton – Wonderful tonight
Faith no more – Easy
Flemming – Amsterdam
Frank Boeijen – De verzoening
Frank Boeijen – Koud in mijn hart
Frank Boeijen – Zeg me dat het niet zo is
Frank Boeijen – Kronenburg park
Frans Bauer – Heb je even voor mij
Frans Duijts – Jij denkt maar dat je alles mag van mij
Gebroeders Ko – Schatje mag ik je foto
Gery Halliwel – It's raining men
Golden Earring – Another 45 miles to go
Golden Earring – Going to the run
Golden Earring – Why do I
Golden Earring – Twilight Zone
Guus Meeuwis – Brabant
Guus Meeuwis – Ik ook van jou
Guus Meeuwis – 't dondert en het bliksemt
Guus Meeuwis – Tranen gelachen
Guus Meeuwis – Voor haar
Helene Fischer – Atemlos
Herman Brood – Saturday Night
Hermes House Band – I will survive
Het Goede Doel – Belgie
Het Goede Doel – Nooduitgang
Idols – I've got the music in me
Ike & Tina Turner – Proud Mary
Ilse de Lange – I'd be yours
Ilse de Lange – I'm not so tough
Is Ook Schitterend – Uit de schaduw
Is Ook Schitterend – Voltooid Verleden Tijd
Jan Smit – Als de nacht verdwijnt
Joe Cocker – Unchain my heart
John Mayer – Last train home
John Mayer – New light
John Paul Young – Love Is In The Air
Justin Timberlake – Can't stop the feeling
Katy Perry – Chained to the rhythm
Katy Perry – Feels
Kris Kross – Vluchtstrook
Krystl – Blurred Lines
Lawine Boys – Seks met die kale
Leaf – Wonderwoman
Lee Towers – You never walk alone
Leonard Cohen – Hallelujah
Joss Stone – Right to be wrong
Madcon – Don't worry
Marco Borsato – Binnen
Marco Borsato / Armin / Davina – Hoe het danst
Mark Ronson – Uptown Funk
Maroon 5 – Memories
Mart Hoogkamer – Ik ga zwemmen
Meatloaf – Paradise by the dashboard light
Melissa Etheridge – Like the way I do
Metallica – Whiskey in the jar
Michael Jackson – Billie Jean
Miley Cyrus – Jolene
Miss Montreal – Door de wind
Niall Horan – On the loose
Nielson – IJskoud
Normaal – Oerend Hard
One Direction – One way or another
Pharell – Happy
Pitbull – Fireball
Pointer Sisters – I'm so excited
Queen – Crazy little thing called love
Racoon – Love you more
Red Hot Chili Peppers – Otherside
Red Hot Chili Peppers – Dani California
Red Hot Chili Peppers – Under the bridge
Rene Froger – Nobody Else
Rene Froger – This is the moment
Rene Froger – You've got a friend
Rene Schuurmans – Laat de zon in je hart
Ricky Martin – Livin' la vida loca
Robbie Williams – Feel
Robbie Williams – Let me entertain you
Robert Cray Band – Right next door
Robert Cray Band – Don't be afraid of the dark
Robin Thicke – Blurred Lines
Ronan Keating – When you say nothing at all
Shania Twain – Man I feel like a woman
Sheppard – Geronimo
Sheppard – Let me down easy
Sheryl Crow – All I wanna do
Simple Minds – Don't you
Snelle & Maan – Blijven slapen
Snollebollekes – Links Rechts
Stealers Wheel – Stuck in the middle with you
Stef Ekkel – Liever te dik in de kist
Steppenwolf – Born to be Wild
Stevie Wonder – I Wish
Sting – Fragile
Suzan & Freek – Als het avond is
Suzan & Freek – Deze is voor mij
Suzan & Freek – Goud
Suzan en Freek – Altijd wel iemand
Tabitha – Hallo met mij
The Communards – Don't leave me this way
The Eagles – take it easy
The Proclaimers – 500 miles
The Scene – Blauw
The Scene – Iedereen is van de wereld
The Trammps – Disco inferno
Triggerfinger – I follow rivers
U2 – One
Van Dik Hout – Alles of niets
Van Dik Hout – Stil in mij
Van Dik Hout – Tot jij mijn liefde voelt
Volumia – Blijf bij mij
Waylon – Wicked Way
Willie Nelson – Take it to the limit
Wolter Kroes – Viva Hollandia